Image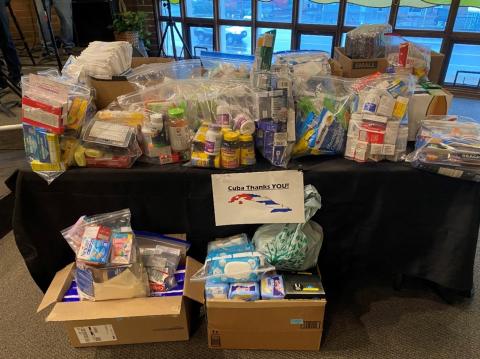 Body
Thank You Belfair  Community Church!
Beginning this past August, Lynne and I took on a three-month pastoral interim at Belfair Community Church, filling in for the pastor who took a three-month sabbatical. As we anticipated a November Cuba mission trip, we decided that our salary would go toward our Cuba mission.
Pastoring this congregation was a very fulfilling experience. So responsive were they, that upon hearing of our work in Cuba, the Outreach Team of the Belfair Community Church challenged the congregation to give medicines and toiletries to Cuba. The response was truly amazing.  
Both the quantity and quality of the donation brought tears to our eyes. Clearly, this small congregation had sacrificed out of love for their brothers and sisters in Cuba.
Perhaps as a member of a local church, you might want to share the opportunity to be on mission in Cuba with your pastor and your church's leadership. Please feel free to contact me to receive instructions on how you could take up an offering to support your brothers and sisters in Cuba. brian@brianharpell.com