Image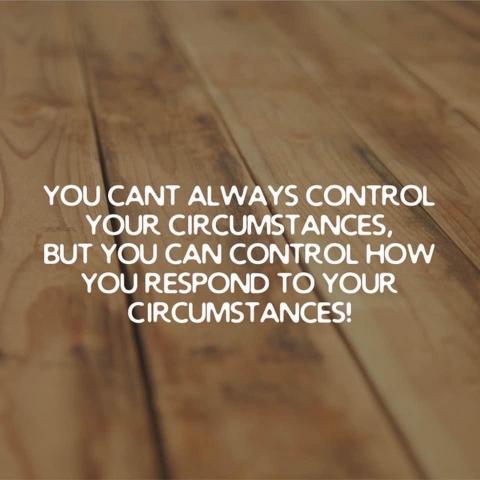 Body
I have been leading a weekly study on the book of Philippians, written by the Apostle Paul while he was incarcerated for his faith. The theme I've been focusing on is ATTITUDE, for two reasons. First, there is an explicit challenge throughout the book to have a positive, Christ-like attitude, such as what is found in Philippians 2:5. Paul writes, "Have this attitude in yourselves which was also in Christ Jesus." (verse 5, NASB)
And second reason is that throughout this book we see the Apostle Paul modeling a positive attitude, despite the fact that his circumstances were quite challenging. We can't always control our circumstances, but we can control how we respond to our circumstances.  
Attitude is key to how we come through difficult times like we are facing with this Covid-19 pandemic. Someone said, "An optimist sees an opportunity in every problem; a pessimist sees a problem in every opportunity." But the attitude that will see us through difficult times is not a Pollyana perspective that refuses to look at reality.     
I read an article this week by Sharon Ackman, titled "Soldiers With This Trait are Survivors in Life and War" that speaks of the importance of attitude when it comes to survival.
Consider that if you are ever captured by the enemy, one thing determines your chances of survival more than anything else. It's not if you're wounded or in good physical condition. It's not your age or how much training or experience you have. Do you know what it is?
It has to do with your ATTITUDE.
During the Vietnam War several thousand American servicemen were captured by the North Vietnamese, and taken as prisoners of war (POWs). They were held in tiny cells where they were tortured, beaten and starved. Some were kept for years in solitary confinement. At the end of the war, only 591 returned home.
Why did those 591 survive when all the others died?
Medal of Honor recipient Commander James Stockdale was later asked who hadn't made it out of the camps. "That's easy. It was the optimists."
He pointed out that there is something about being a realist that gives you critical tools to cope when the worst happens. The good news is you can use these insights to build your mental fortress. It'll increase your chances of surviving and making it home. But it's not just for combat. It's a mindset you can use to confront the toughest tests of daily life.
In Vietnam, the optimists believed they were going to be home by Christmas. When that didn't happen, they thought they'd be out by Easter. That didn't happen either, so then they said the Fourth of July. Then Thanksgiving. Then Christmas again.
We all need hope. But not false hope. You can't totally deny what is happening, to make it easier to cope. Because when we delude ourselves, we stop being able to separate fantasy from reality. Which becomes a big problem.
False hope sent those POWs on a wild rollercoaster of false hope and delusion, only to come crashing down. Waking each morning in a cramped sweltering cell, months or years after they were certain it would all be over. It shattered their endurance and ultimately their will to live. Stockdale would recall: "I think they all died of a broken heart."
Jim Collins' in his classic book "Good to Great" cites the Stockdale Paradox, named after Commander James Stockdale, says "Retain absolute faith that you can and will survive, and, at the same time, confront the most brutal facts of your current reality."  
Stockdale observed carefully those who had "the discipline to confront the most brutal facts of their current reality." When disaster strikes, accepting the brutal reality of your situation is key. Then move on, focusing all your energy on how you will get through.
Get acquainted with your worst nightmare. For the pessimist POWs, nothing that happened in those prison cells would have been a surprise. Not the torture, the interrogation sessions, or death itself. Pessimists harness their nightmares. If you imagine the worst then you can prepare for it.
This isn't about making yourself miserable. It's about rehearsing your response. Because if you're not ready, life will sneak up and sucker punch you. You'll be doubled over, struggling for breath, trying to process what's happening.
This is, in fact, the attitude that the Apostle Paul demonstrated in his circumstances. He wrote: "For I know that this will turn out for my deliverance through your prayers and the provision of the Spirit of Jesus Christ, according to my earnest expectation and hope, that I will not be put to shame in anything, but that with all boldness, Christ will even now, as always, be exalted in my body, whether by life or by death. For to me, to live is Christ and to die is gain." (Philippians 1:19-21)
The Apostle Paul believed that God could and would bring about his deliverance. But he also considered what might be considered his "worse case" scenario, being put to death. Resilient people, with a genuine positive attitude do not refuse to look at reality, 
What they do is they think out everything that could go wrong. They anticipate the things that could go wrong in life and plans how he will deal with them.
Visualizing your "worse case" scenario is like training at high altitude. You are mentally preparing yourself for the worst conditions. You will never be caught off guard. If it doesn't happen, all the better. But if it does, you'll be calm and steady in a crisis.
The POWs that succeeded held on to hope but and faced the faced. They started getting a boost out of their bad luck. 'Whatever does not kill me, makes me stronger.' Hardship became a prestige item.
This is why decades later Stockdale would describe his time as a POW as the defining event in his life, and one he wouldn't trade. Suffering can't be eliminated. But we can choose how we will respond to it.